Have you discovered RS PRO?
RS PRO is the own brand range from RS and brings you a wide range of high-quality, great value products offering you more choice.
Product Highlights
LED Lighting
Our extensive range of lighting products continues to grow, bringing energy efficient, quality, bright light to where you need it, whatever the application.
Shop Now
Modular Stacking Beacons
We've added a complete range of modular stacking LED beacon components and pre-assembled, ready to use beacons.
Shop Now
Spill Control
This growing range of spill prevention and containment products offers complete kits, individual, high performance absorbents and spill control equipment.
Shop Now
General Use Enclosures
Find even more choice with our expanded range of great value aluminium, ABS and polycarbonate enclosures in a host of sizes. Perfect for simple electronics projects to fully IP68 sealed outdoor applications.
Shop Now
See how we test our products
RS PRO are serious about quality for our customers, here you will see the rigorous quality testing our hand tools go through to ensure they do the job well for you time and time again.
Don't just take our word for it! Watch our customer review.
Hear what Core have to say about RS PRO and why they use our own brand range from RS for all their needs.
RS PRO Seal of Approval

Since 1937, RS PRO has had a passion for industrial parts. More importantly, we believe that every part matters, because the quality of your applications will always be linked to the quality of every part going into them.
This is why we rigorously test every part against demanding industry standards to gain the RS PRO Seal of Approval.

Audited
In compliance with industry standards

Inspected
For guaranteed quality and performance

Tested
By leading engineers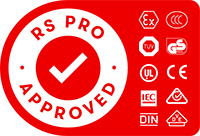 About RS PRO

Quality
We rigorously test every part against demanding industry standards to gain the RS PRO seal of approval.

Choice
We continuously expand our range to cover your every need.

Value
We price our products competitively by negotiating the best conditions with our suppliers.