View all Power Cords
---
3 In stock for same day dispatch
available from Europe for delivery within 2 working
day(s)
| | |
| --- | --- |
| Units | Per unit |
| 1 - 9 | kr 236,56 |
| 10 - 24 | kr 218,30 |
| 25 + | kr 208,40 |
RS Stock No.:

296-371

Brand:
COO (Country of Origin):

CN
Legislation and Compliance
COO (Country of Origin):

CN
---
Product Details
RS PRO 2 P + E Main Extension Lead
Brought to you under the trusted RS PRO brand, this extension lead is fitted with safety clips on the plug and socket. Commonly known as a Type F-Schuko plug, this extension lead is able to be used in a number of European countries. With various lengths of 3 m, 5 m and 10 m, this highly durable power cord is suited to a number of applications. All RS PRO models are highly reliable and excellent quality.
Options include:
296-393
is a grey extension lead, 3 m power cable, CEE 7/5 to CEE 7/6, 16 A, 250 V
296-387
is a grey extension lead, 5 m power cable, CEE 7/7, Schuko to CEE 7/7, Schuko, 16 A, 250 V
296-371
is a grey extension lead, 10 m power cable, CEE 7/7, Schuko to CEE 7/7, Schuko, 16 A, 250 V
RS PRO have a great range of highly reliable extension leads, extension cables, cable reels and socket strips to meet all your power management needs. When you find yourself working away from the main power source you can still have the required power to carry out the job no matter what environment or application it is.
Features and Benefits:
1 socket extension lead with choice of cable lengths - 3m, 5 m or 10 m
European plug
Double insulation
Material is polyester thermoplastic
Nickel plated brass contacts
Child proof
Typical Applications:
Extension leads, and reels are power distribution units that can have several sockets to allow multiple plugs to run power to different devices. The cable is plugged into the mains through the extension lead, while the sockets can individually power the plugs that are plugged into the sockets. This type of equipment is ideal for extending the length of cable and increasing the number of sockets from a standard mains outlet to allow for better power management of several devices at any one time. The can be used in a domestic environment as well as in other areas like the workplace or within industry to power a range of products like:
DIY and home improvements
Maintenance work
Household entertainment (TVs, satellite boxes, routers etc)
Industrial machines and equipment
Office desks (Monitors, computers, phones)
Any electrical device needed to be powered by the mains
FAQs
What is a Schuko plug?
A Schuko is a common type of European plug. It will function in various countries, such as Switzerland, Denmark, Italy and Germany. A British 3-pin outlet and plugs would be found in every UK household and workplace, but these Euro plug types are 2-pin. Although uncommon on UK appliances and machines, the Schuko can still be a common occurrence, especially with items such as shavers and chargers.

What is a power cable assembly?

Power cable assemblies are defined as any power cable which has had a connector installed prior to sale. There are versions which may have one connector and an unterminated end. Some assemblies may have a connector a plug and some assemblies will even have 2 connectors (IEC lead extension). Depending on the application, there are various types to suit the needs.

Why RS PRO?
RS PRO provides a comprehensive range of power and power extension solutions at affordable prices. Our trailing sockets, power plugs, and power adaptors are tested by RS experts to assure quality and reliability. Whether you're powering industrial machinery or domestic appliances, RS PRO has a power plug or socket to suit your needs.
RS PRO is our own brand range and brings you a wide range of high-quality, great value products offering you more choice. Trusted by engineers all over the world, every part of every RS PRO product has been rigorously tested against demanding industry standards; they're only given the RS PRO seal of approval if we're confident of their exceptional quality, which means you can be confident too.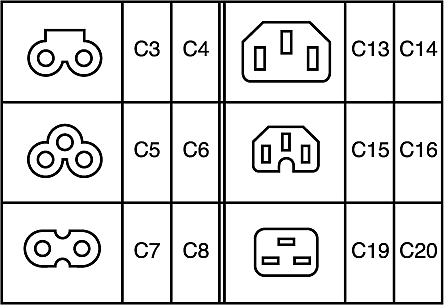 IEC and International Leads


A range of electrical appliance connecting leads, the majority of which are terminated with connectors that conform to IEC 60320. The IEC (International Electrotechnical Commission) is the international standards and conformity assessment body. The drawing illustrates the range of connector types offered within this section - The 'odd' 'C' numbers refer to a socket type connector - mains input - and the 'even' 'C' numbers refer to a plug type connector - the appliance inlet.
---
Specifications
| | |
| --- | --- |
| Attribute | Value |
| Connector A | CEE 7/7 |
| Connector A Gender | Male |
| Connector B | CEE 7/7 |
| Connector B Gender | Male |
| Length | 10m |
| Voltage Rating | 250 V |
| Current Rating | 16 A |
| Sheath Colour | Grey |
| Outer Sheath Material | PVC |