Raspberry Pi
Your tiny, dual-display, desktop computer
Raspberry Pi4 is the most powerful Pi board to date and is now a complete desktop computer; it can power 2 independent 4K screens simultaneously, and has 3 times the processing power and 4 times the multimedia performance of its predecessors allowing users to surf, stream films, edit images and even create apps in ultra high definition.
Raspberry Pi 4 - technical specification
| | |
| --- | --- |
| Processor | Broadcom BCM2711, quad-core Cortex-A72 (ARM v8) 64-bit SoC @1.5GHz |
| Memory | 2GB and 4GB models (1GB model available at okdo.com) |
| Connectivity | 2.4 GHz and 5.0 GHz IEEE 802.11b/g/n/ac wireless LAN, Bluetooth 5.0, BLE. Gigabit Ethernet, 2 x USB 3.0 ports and 2 x USB 2.0 ports |
| Access | Standard 40-pin GPIO (backwards-compatible) |
| Video and Sound | 2 xmirco HDMI ports (up to 4Kp60 supported)2-lane MIPI DSI Display port2-lane MIPI CSI camera port4-pole stereo audio and composite video port |
| Multimedia | H.265 (4Kp60 decode), H.264 (1080p60 decode, 1080p30 encode), OpenGL ES, 3.0 graphics |
Raspberry Pi 4 accessories
Other members in the Raspberry Pi family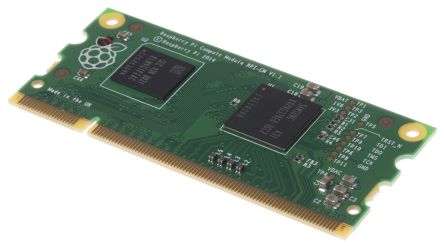 Since the launch of the first Rasberry Pi back in 2012, millions of boards have been sold throughout the world. New models have been added, such as the Raspberry Pi Compute Module, as well as updated versions of of the orignial Raspberry Pi. RS Components stock a wide range of these models.
Check out RS's authorised resellers
Our authorised resellers stock a wide range of Raspberry Pi
Authorised Raspberry Pi resellers:
The below companies are selected by RS Components as authorised resellers for Raspberry Pi products. Consumer customers, without VAT numbers, are requested to purchase via the below listed resellers.
We remind you that once following the links below, your order will be managed by the reseller autonomously and independently from RS.
RS has no responsibility for any dealings you may have with these resellers, and any purchase you make will be governed by the terms and conditions of sale of the relevent reseller.