Yuasa 12V Faston F2 Sealed Lead Acid Battery, 8.5Ah
RS Stock No.:

707-4966

Mfr. Part No.:

NPW45-12

Brand: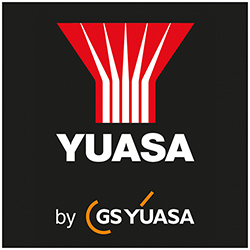 View all Lead Acid Batteries
---
659 In stock for same day dispatch
| | |
| --- | --- |
| Units | Per unit |
| 1 - 4 | kr 584,74 |
| 5 - 9 | kr 552,59 |
| 10 + | kr 520,41 |
RS Stock No.:

707-4966

Mfr. Part No.:

NPW45-12

Brand:
RoHS Status: Not Applicable
COO (Country of Origin):

TW
Legislation and Compliance
RoHS Status: Not Applicable
COO (Country of Origin):

TW
---
Product Details
Yuasa NPW45-12 VRLA Battery
Introducing the NPW45-12 lead-acid battery from Yuasa. This lead acid rechargeable battery is specially designed for applications requiring high rate discharge. The high-quality rechargeable sealed lead acid battery ensures that no electrolyte leakages occur from the case or terminals. This battery is almost maintenance-free with a perfectly sealed construction and the recombination of gases within the cell.
The valve regulated design of this battery is equipped with a safe low-pressure venting system, which releases excess gases and automatically reseals should there be a build-up of gas within the battery due to overcharging.
Features & Benefits
• Sealed Lead-acid (SLA)
• EUROBAT classification: 3 to 5 years
• Absorbed Glass Matt (AGM) technology with no free acid
• Gas recombination technology
• Good recovery from deep discharge
• Used in any orientation except continuously inverted
Specification
• Length: 151 mm
• Width: 65 mm
• Height: 97.5 mm
• Weight: 2.7 kg
• Nominal Voltage: 12V
• Capacity: 8.5Ah
Operating Temperature Range
• Storage (in fully charged condition) -20°C to +40°C
• Charge -0°C to +40°C
• Discharge -15°C to +50°C
Typical Applications
• Alarm Systems
• Communication Equipment
• Emergency Lighting
• Fire and Security Systems
• Golf Trolleys
Terminal Type
• Faston F2 Quickfit / Release
AGM Lead Acid Batteries Vs Gel Cell Batteries
Absorbed Glass Mat
These batteries contain only enough liquid to keep the specially designed glass mat wet. The glass mat is made to wick the battery electrolytes between the battery plates. If the battery is broken no free liquid leaks out.

AGM batteries are preferred when a larger number of amps are required. The life expectancy remains excellent in most cases if they are not discharged more than 60% between recharges and/or recharged fully every 3-6 months.

Gel Cell Batteries
These batteries contain silica type gel, which is a thick paste-like material. It allows the electrons to flow between plates but will not leak in a gel battery if the case is broken.

Gel Cell Batteries don't offer the same power capacity as per the same physical size as AGM batteries. Gel cell batteries excel in slow discharge rates and slightly higher operating temperatures and with excellent deep cycle capability. Recharging these batteries must be done correctly or it will suffer premature failure.
FAQ's
Is a lead Acid Rechargeable Battery Harmful?
Lead-Acid batteries contain chemicals that have the potential to be harmful to both your health and the environment. They contain lead which is a highly toxic metal and sulfuric acid which is a corrosive electrolyte solution. Proper handling procedures must be followed always.

What state of charge will the battery be in when delivered?
The NP range will have 90% to 95% of charge approximately, we do recommend charging prior to use.

How to dispose of Lead Acid Batteries?
Lead-acid batteries do contain hazardous chemicals, so recycling is the only way to dispose of them.
Recycle responsibly. A wide range of schemes are available.
---
Specifications
| | |
| --- | --- |
| Attribute | Value |
| Capacity | 8.5Ah |
| Nominal Voltage | 12V |
| Construction | AGM |
| Terminal Type | Faston F2 |
| Dimensions | 151 x 65 x 94mm |
| Weight | 2.7kg |
| Designed for Cyclic Application | Yes |
| Designed High Rate Application | Yes |
| Eurobat Classification | 3 to 5 Years |
| Operating Temperature Range | -15 → +50°C |