Honeywell SSCE Series Plunger Limit Switch, NO/NC, IP68, SPDT, Die Cast Zinc Housing, 240V ac Max, 4A Max

RS Stock No.:

344-3595

Mfr. Part No.:

SSCEB31C

Brand:
View all Limit Switches
---
Sorry, we couldn't check our stock levels right now. Please try refreshing the page.
| | |
| --- | --- |
| Units | Per unit |
| 1 + | kr 2 068,48 |
RS Stock No.:

344-3595

Mfr. Part No.:

SSCEB31C

Brand:
Legislation and Compliance
COO (Country of Origin):

GB
---
Product Details
Honeywell SSCE Super Sealed CE Limit Switches
SSCE limit switches form part of Honeywell's wider miniature limit switches range. They are precise and reliable, even in the toughest environments. These 'Super Sealed' CE switches are able to function as normal while full submerged in a variety of different fluids.
Features:
• SSCE series limit switches feature gang-mounting capability.
• They have two 25 mm mounting centres.
• SSCE limit switches are pre-wired with 3 meter long PUR (Polyurethane) cable.
• They can be used for multiple switching within confined spaces.
• This series of limit switches are constructed from a rugged die-cast zinc housing.
• Excellent mechanical lifespan up to 10 million operations.
• Snap action contacts.
Benefits:
• With a compact design, SSCE limit switches can be used in applications where space is limited and a switch with a small footprint is required.
• They are quick and easy to install, with a simple two-screw mounting design and pre-wired PUR cable.
• The use of polyurethane (PUR) for the cable, also enhances SSCE limit switches ability to withstand harsh conditions. PUR sheathing remains flexible through a wide range of temperatures and has anti-kink properties. It is difficult to cut and incredibly wear resistant. It also offers resistance to humidity, UV radiation and as a barrier to oils and chemicals.
• Unlike many other limit switches from Honeywell, SSCE series are fitted with gold plated contacts instead of silver contacts. Some environmental conditions, such as submersion in liquid, or the presence of moisture can cause silver contacts to tarnish. These conditions do not affect the gold plated contacts, giving SSCE switches greater reliability when switching at low voltages and low currents. Gold plating protects the contacts from contamination while in storage before use as well as during operation.
• You can build your own multiple plunger switch by using the SSCE series' gang mounting capability.
Applications:
SSCE series limit switches are suitable for applications that require a limit switch to be fully submerged in liquid. They are robust and rugged and can handle harsh applications.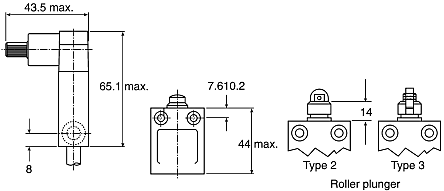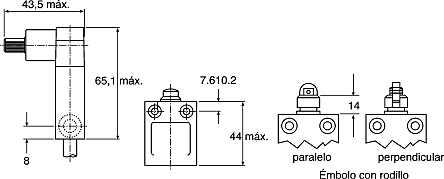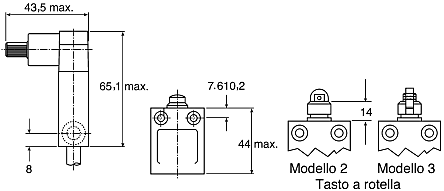 Honeywell Snap-Action Limit Switch, NO/NC, 240V AC Maximum - SSCE Series - SSCEB31C
Improve workplace safety with this miniature limit switch from Honeywell. It's a contact proximity sensor that comes pre-wired with durable polyurethane (PUR) cable for durability, electrical insulation and resistance to oil and grease. This makes for a safe and long-lasting product. The snap-action limit switch is 'super sealed' with an ingress protection rating of IP68, meaning it has the highest possible degree of defence against dust and water. The gold-plated contact provides resistance to rust, allowing this switch to function even when fully submerged in a range of fluids. Because of its compact size of 67 (length) by 40 (width) by 16mm (depth), this unit is useful for applications where there's a space limitation. Die-cast zinc housing material helps to enhance the switch's durability.
Features & Benefits
• Mechanical life of 10,000,000 cycles means it can withstand long-term repeated use
• Operating temperature range between -40°C and +90°C for optimal performance under changing temperatures
• NO/NC (normally open/normally closed) default state configuration options for versatile, multifunctional use
Applications
• Fire suppression systems
• Door latching mechanisms
What does 'snap action' mean?
Snap action, as the name implies, means the switch is able to move rapidly from open to closed position. This makes it suitable for high-speed applications.
Approvals
Approvals
---
Specifications
| | |
| --- | --- |
| Attribute | Value |
| Actuator Type | Plunger |
| Pole and Throw Configuration | SPDT |
| Normal State Configuration | NO/NC |
| IP Rating | IP68 |
| Maximum Current | 4A |
| Housing Material | Die Cast Zinc |
| Maximum AC Voltage | 240V |
| Connection Type | Cable |
| Series | SSCE |
| Action Type | Snap Action |
| Length | 67mm |
| Maximum Operating Temperature | +90°C |
| Width | 40mm |
| Standards Met | CE Certified, EN 60947-5-1, IEC 60947-5-1 |
| Minimum Operating Temperature | -40°C |
| Depth | 16mm |
| Mechanical Life | 10000000Cycles |
| Operating Force | 22.5 N |
---