Yuasa DH, 3QQMH4-0LFT4, 3.6V, NiMH Rechargeable Battery, 4Ah
RS Stock No.:

771-6272

Mfr. Part No.:

3QQMH4-0LFT4

Brand: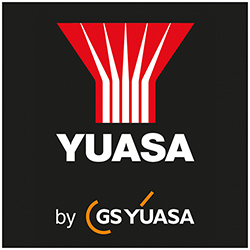 View this category
---
196 In stock for same day dispatch
| | |
| --- | --- |
| Units | Per unit |
| 1 - 9 | kr 341,70 |
| 10 - 24 | kr 322,91 |
| 25 + | kr 304,11 |
RS Stock No.:

771-6272

Mfr. Part No.:

3QQMH4-0LFT4

Brand:
COO (Country of Origin):

CN
Legislation and Compliance
COO (Country of Origin):

CN
---
Product Details
Yuasa RoHS Certified NiMH Rechargeable Battery Emergency Lighting Stick.
The Yuasa Emergency lighting battery is an NiMH stick design battery specially designed to handle industrial high temperatures plus is RoHS certified. The batteries are available as single cell or in packs plus supplied with connection leads. The rechargeable batteries are used when there is a mains failure providing light enabling safe evacuation.
Features and Benefits.
• Emergency lighting stick design battery (cylinder cell).
• NiMH (Nickel Metal Hydride).
• RoHS Certified.
• Industrial high temperatures.
• Connections leads.
• Single cell or packs available.
• Standard terminals.
• High capacity.
• Longer running time exceeds standard.
• Batteries must be charged before use.
• Standard charge 0 to 58°C.
• Standard discharge 0 to 70°C.
• Various sizes, voltages available.
• Do not solder directly to the battery.
Applications.
• Back up lighting.
• Commercial.
• Industrial.
Available Yuasa Batteries.
• Stock number
7716272
, single cell, 3.6 V, 4 Ah (4000 mAh), diameter 18.5 mm, length 68 mm, weight 64g.
• Stock number
7716279
, single cell, 2.4 V, 4 Ah (4000 mAh), diameter 18.5 mm, length 68 mm, weight 64g.
FAQ's
Are NiMH Batteries Harmful?
NiMH batteries are classed as the "green" choice as they are environmentally friendly and do not contain heavy metals. NiMH batteries are generally safe, always refer to the manufacturers guidelines.
How to store NiMH batteries?
Avoid keeping the batteries in drawers with metallic objects like paperclips, coins, other batteries or household items such as steel, wool, aluminium foil and keys. If these touch, this can be a potential fire hazard. Keep the batteries in their original packaging until ready to use.
How do you dispose of NiMH batteries?
As with all batteries you need to take care and dispose of batteries carefully, DO NOT throw batteries away with your standard rubbish. Batteries can be disposed of in re-cycling disposal areas and collection sites for household hazardous waste or of you are dealing with very large quantities of batteries you can contact specialist re-cycling centres.
Safety Advice.
When working with NiMH, they are very sensitive to charging characteristics and can explode if mishandled or overcharged as this generates heat.
Customers must be knowledgeable on NiMH rechargeable batteries in charging, discharging, and assembly before use.
• Put the batteries in fire-proof container.
• Never leave batteries unattended when charging.
• Do not put batteries on wood surface or carpet when charging
• Always use a battery charger which is rated for NiMH Cells.
• Never expose NiMH batteries to extreme temperatures.
---
Specifications
| | |
| --- | --- |
| Attribute | Value |
| Nominal Voltage | 3.6V |
| Capacity | 4Ah |
| Chemistry | NiMH |
| Terminal Type | Standard |
| Brand Range | DH |
| Operating Temperature Range | 0 → +56°C |